Discover more from Espionage&
Famous and not-so-famous stories of real spies.
Over 1,000 subscribers
The Billion Dollar Spy
or "the man who ruined the Soviet warplane industry in less than a decade"
Frustration
One bleak evening in January 1977 the CIA Station Chief in Moscow had left the embassy and driven to a nearby gas station. He was approached by a middle-aged Russian who asked if he was American. When the Station Chief replied in the affirmative, the Russian left a folded piece of paper on the car seat and left. The paper contained a request for a meeting to discuss confidential matters. It also contained detailed instructions for a meeting including time and place for two possibilities, along with a signal to indicate which one was preferred.
The CIA were concerned that this was one of the KGB's dangles aimed at detecting and drawing out CIA personnel from among the Embassy staff so that they could be expelled. The diplomatic situation was also not particularly favourable to such risk-taking: Cyrus Vance - the Secretary of State-designate - was scheduled to visit the USSR, and the Americans were wary of creating waves. Given all this, the CIA decided against pursuing the opportunity.
The Russian approached the Station Chief once again in February, but his note did not draw out a response. A few days later he made contact again, this time explaining that he was an engineer, wasn't well versed in secret matters (as an explanation for the possibility that he was going about this in the wrong way), and again requested to be contacted. The Chief was impressed with his tenacity, but higher ups demurred and no contact was made. This continued for a few more months.
In December of 1977, the Russian handed a letter to a US embassy official who was shopping at a local market and pleaded for it to be handed to the appropriate people. Delivered to the Station Chief, it contained similar instructions for a meeting. But this time the Russian had included two typewritten sheets containing details about the electronic systems for a Soviet aircraft. This was passed on to headquarters and permission was sought to approach the Russian. Since an American official had recently been declared persona non grata, and two CIA officers had been sent home a few months earlier after their cases were compromised, headquarters declined.
Luckily, in February 1978 the Pentagon asked for intelligence on Soviet aircraft electronics and weapons control systems, the kind of information the Russian had shared with the CIA. The Russian approached the CIA twice more, but it was only on 5th March 1978 that the CIA, through case officer John Guilsher, finally contacted him. His name was Adolf Georgievich Tolkachev. He was one of the Chief Designers at Phazotron Design Bureau, the Soviet entity that developed military radars and avionics systems.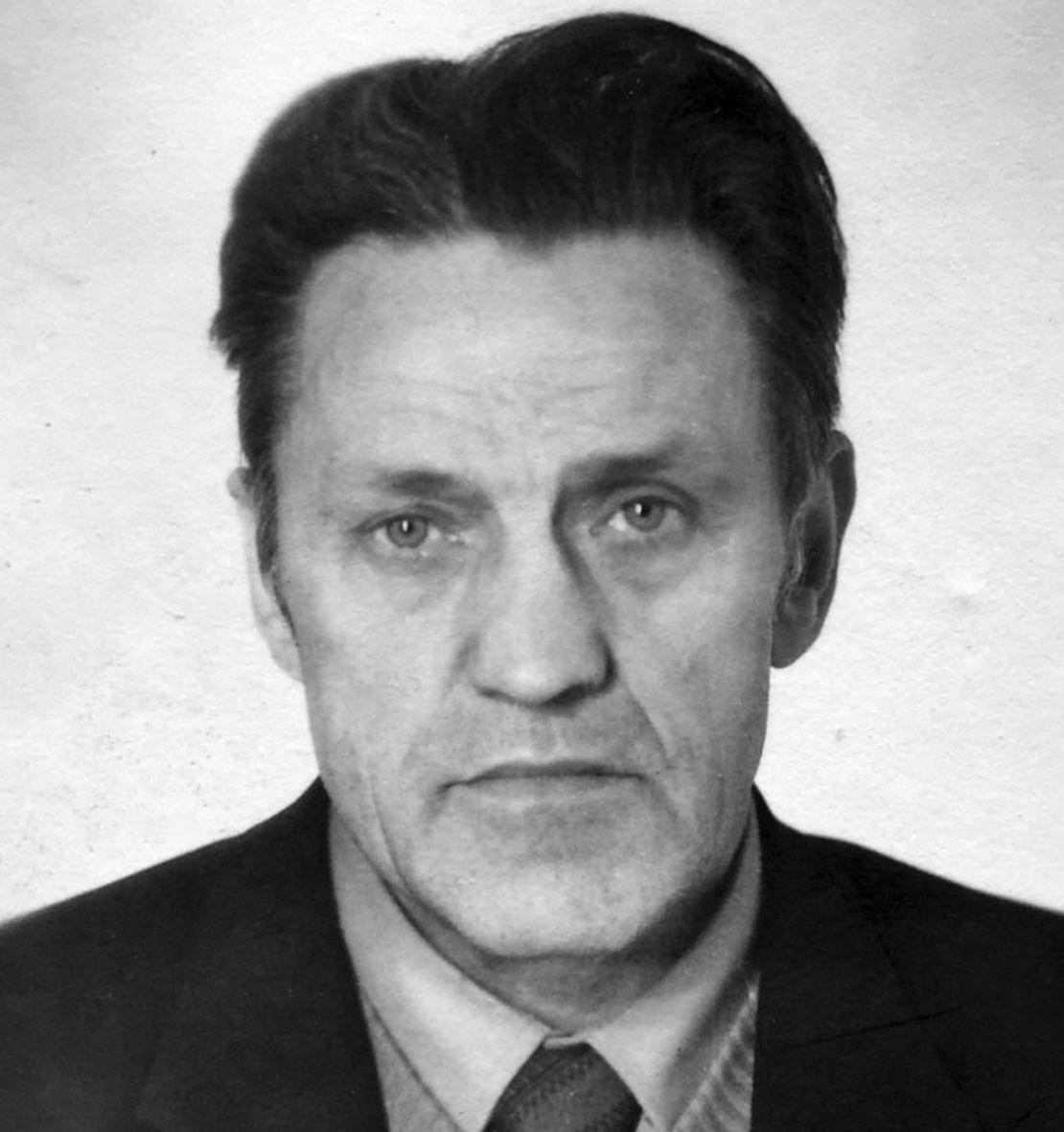 Adolf Georgievich Tolkachev
Prodigious volume
The CIA initially wanted to use dead drops and secret writing for communication, and provided Tolkachev with suitable equipment including a few sheets on which to write the information he wished to communicate. But when Tolkachev mentioned that he had 91 pages of handwritten notes he wanted to pass on to them, Guilsher was given permission to meet him in person.
The meeting took place on New Year's Day in 1979, and Tolkachev handed Guilsher voluminous notes containing:
detailed description of the highly sensitive work in which he was involved, as well as exact formulas, diagrams, drawings of oscilloscope presentations, precise weapon and electronic systems specifications, charts, and quotes from official documents.
The intelligence provided by Tolkachev was distributed to 'customers' of the product, senior analysts from civilian and military intelligence organisations. In May that year a three-day seminar was arranged for them. The customers stated that Tolkachev's data had:
saved them "up to five years of R&D time."
The CIA initially issued him a miniature camera, but that came with three significant limitations: (1) it was small and Tolkachev found it difficult to hold steady, resulting in blurred photographs, (2) it required a lot of light for the pictures to develop properly, more light than was available in his office, and (3) it clicked too loudly.
He asked for a regular 35mm camera. The CIA issued him a Pentax ME 35mm film camera, and he made phenomenal use of it. He would initially take documents - plans, specifications, blueprints, test results - home to photograph, and hand over the film rolls to his CIA handler.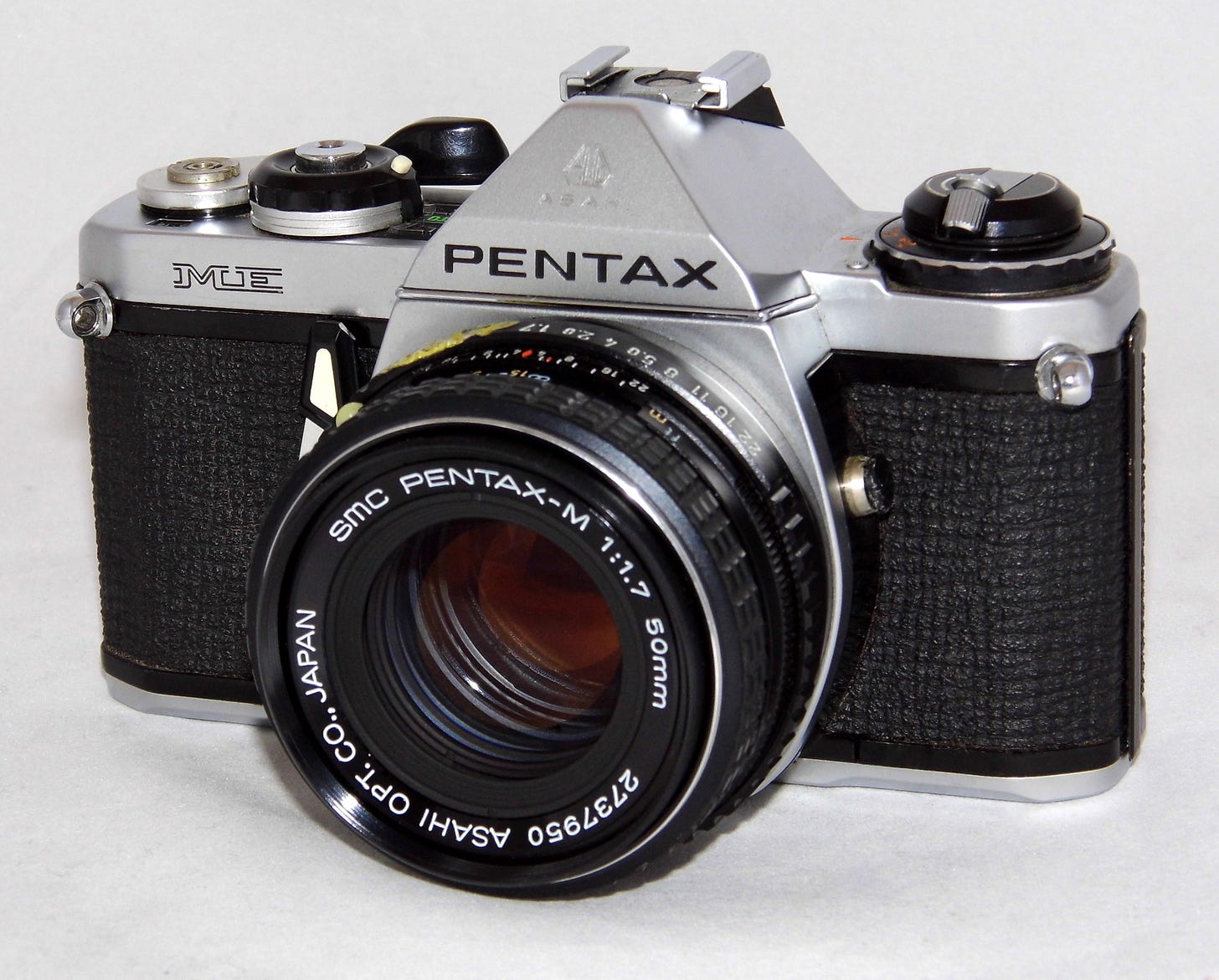 Pentax ME 35mm film camera
He was also issued new spy cameras, each capable of taking 100 photos per roll. This proved fortuitous because the security practices at his organisation were changed, and he was no longer able to take sensitive documents home. He used the spy cameras to photograph sensitive documents in the men's toilet. But he despised them and was happy when the new policy was reversed a few months later, allowing him to resume taking sensitive documents home during lunch break and using the Pentax ME for photographing them.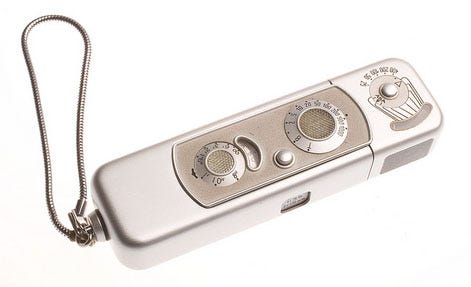 Minox subminiature camera
To put his activity in context, during just one meeting with his handler in Moscow in June 1980, he handed over 170 rolls of film - over 6,000 photographs of documents and blueprints related to Soviet radar designs and avionics.
170 rolls of film - over 6,000 photographs of documents and blueprints handed over during just one meeting with his handler.
Between 1980 and 1985, at least 20 such meetings took place where Tolkachev handed over hundreds of film rolls to his handler in addition to a number of handwritten documents containing explanations and notes.
Risks
The CIA passed him a tonne of requirements, and he began fulfilling them, taking bigger risks. While the CIA planned for eventual exfiltration of Tolkachev and his family, he himself requested that he be given a poison pill. When the DCI refused, he wrote a letter to the DCI.
He explained that in order to fulfil the requirements given to him by the CIA, he had to check out sensitive documents belonging to his own institute that were outside his area of work. And when he needed documents that belonged to other institutes, he had to seek permission. The process was building a paper trail against him, and if the KGB suspected that information was leaking out, an analysis of the paper trail would lead them straight to him.
If this came to pass, he wanted the ability to commit suicide. That was the only way he could think of to prevent the KGB from finding out the volume and scope of the intelligence he had passed on to the CIA.
He was provided the poison pill.
Prolific production ends
Tolkachev continued producing intelligence at a prolific pace until the Spring of 1983 when a major security investigation had been conducted at his institute. The Russians suspected that classified information about a Soviet fighter aircraft target-recognition system had been leaked. Tolkachev had passed on this information the previous month. When he found out about this, he drove to his dacha and destroyed all the spying equipment he had including the Pentax, along with the books and money he had received from the CIA.
He then started carrying the poison pill with him everywhere he went. If the KGB were to plan to grab him, they'd do so in his boss's office. So every time he was called into his boss's office, he went with the poison pill placed under his tongue, ready to be bitten.
The CIA meanwhile investigated the possibility of a leak but dismissed it because the information about the fighter aircraft target-recognition system had not yet been disseminated outside the CIA.
Towards the end of the year his fears abated. He was reissued spy cameras and once again began producing intelligence. His request for another Pentax was, however, denied: removing documents from the institute for photographing at home was deemed too risky.
In March 1985 he failed to make it to an unscheduled meeting requested by his case officer. He didn't make it to the alternative, or to a third one either. It was then decided to avoid contact until the next scheduled meeting in June.
On 5th June he signalled a willingness to meet, but the case officer was unable to make it due to heavy surveillance. The alternate meeting was on the 13th June, and although the case officer did not notice any surveillance, he was accosted at the meeting site by KGB personnel and bundled off to Lubyanka prison.
Tolkachev was not seen at that meeting or afterwards. He had been arrested by the KGB while he was driving back with his wife from their dacha. He had left the poison pill at home.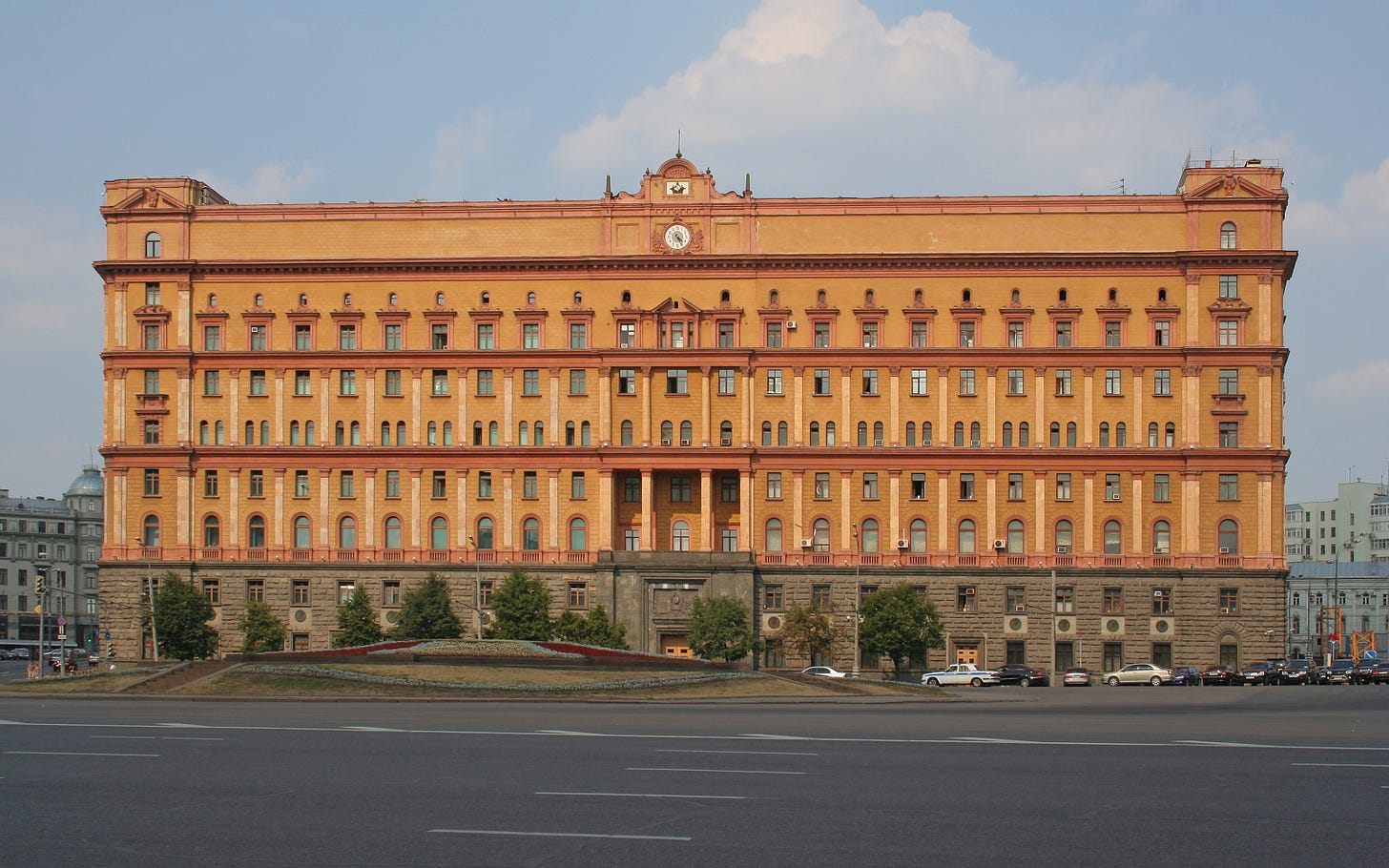 Lubyanka Prison, Moscow
Betrayal
The CIA believe that Tolkachev was betrayed by a disgruntled CIA officer named Edward Lee Howard. He had been assigned to go to Moscow and was read into the Tolkachev operation, but problems discovered during a routine security investigation in early 1983 had resulted in his employment being terminated in April 1983, before he could travel.
Vitaly Yurchenko, a KGB officer, defected to the United States through its embassy in Rome on 1st August 1985. He identified two American intelligence officers as KGB agents. One of those two was Howard.
Yurchenko claimed that Howard contacted the KGB in Austria in September 1984 and passed on information related to CIA operations. Howard met them again in April 1985, this time in Vienna, and provided additional information.
Yurchenko defected back to USSR in November 1985, and is suspected to have been a KGB plant intended to divert attention away from Aldrich Ames. Howard maintained his innocence until his death at his dacha in Russia in 2002.
But he wasn't the only one leaking CIA operations to the KGB. Aldrich Ames had also passed Tolkachev's name to the KGB when he volunteered to work for them in 1985.
Billion dollar product
Even though Tolkachev was arrested in 1985 and executed within a year, the intelligence he provided continued to be exploited by the CIA till 1990. His 'product' has been valued at much more than a billion dollars in the 1980s. The documents, blueprints, and handwritten notes he provided gave the US detailed intelligence about projects like the Vympel R-23 MRAAM, the N001 Myech multimode airborne radar found on the Su-27, the S-300 (SA-10 Grumble), MiG-29, the Buk missile system (SA-11 Gadlfy), etc.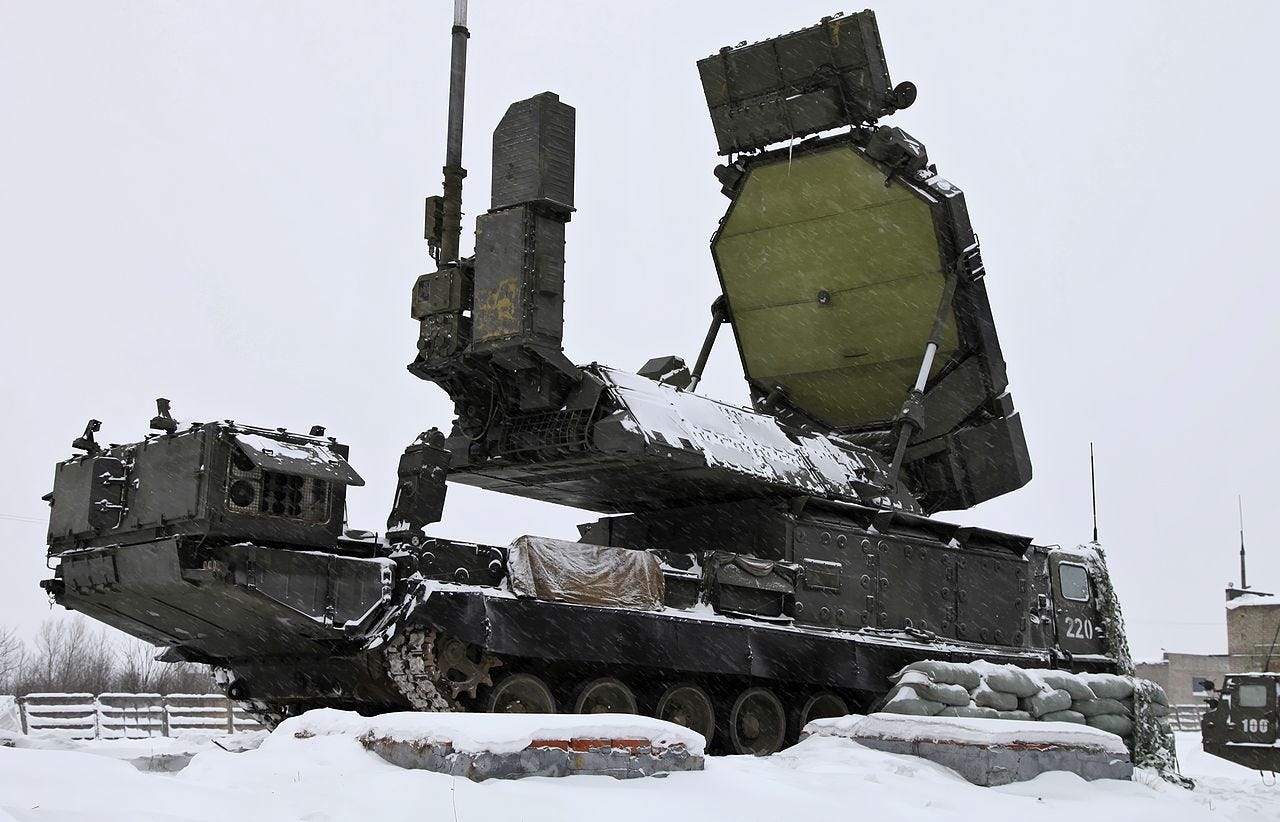 9S32 engagement radar of the S-300
Among other impacts, some of the intelligence passed on by Tolkachev led to the US Air Force reversing direction on a $70 million electronics package for the F-15 Eagle.
Impact
The immediate consequence of Tolkachev's activities was seen in March 1986 when the intelligence he had provided about Soviet aircraft and radar systems allowed the US to:
out manoeuvre and jam the Libyan Arab Air Force so badly that the Libyans stopped flying their interceptors over the Gulf of Sidra.
They were also able to destroy a SA-5 surface to air missile site at Sidra. The impact was also seen during Operation Desert Storm when the Iraqi Air Force was overwhelmed in three days time. As Tom Cooper notes:
For example, the pilots of the U.S. Navy A-7E Corsair IIs that attacked the Libyan SA-5 Gammon SAM site near Sidra during the evening of March 24, 1986, knew the exact performance specs of the system they were facing.

He certainly provided the Americans with full insight into modern Soviet-made aircraft such as as the MiG-29, MiG-31 and Su-27 and their air-to-air missiles — and enabled U.S. scientists and engineers to quickly develop electronic countermeasures against these systems.
The damage that Tolkachev's espionage inflicted on the Soviets can be best gauged from the words of a Sukhoi engineer:
"It took more than 10,000 different upgrades and over 20 years" merely to improve the original Su-27 to the Su-27SM-standard, and thus "repair some of the damage" Tolkachev caused.
And the CIA knew this. By 1985 they had put more than a million dollars in an escrow account as Tolkachev's salary since 1979.
Addendum
Short comment on Tolkachev's motivation.
Sources:
"Tolkachev, A Worthy Successor to Penkovsky", CIA.
"The Man Who Ruined the Soviet Warplane Industry", Tom Cooper.
"True Spies" podcast, Hayley Atwell.
---
Shaunak Agarkhedkar writes spy novels. His first two - Let Bhutto Eat Grass & Let Bhutto Eat Grass: Part 2 - deal with nuclear weapons espionage in 1970s India, Pakistan, and Europe.
---